The Nature-Accelerator has closed its call for applications with almost 250+ potential recruits offering sustainable solutions in the agriculture (150+), forestry (20+), ecotourism (60+) and natural resource (70+) sectors!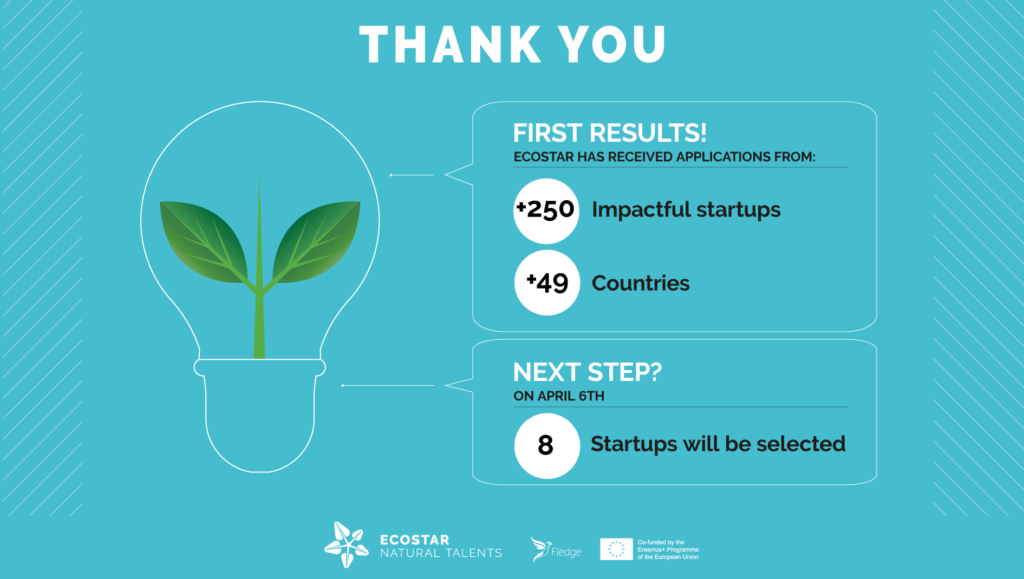 All applications have been going through a tough screening process by our experts, where they are assessed based on the strength of their teams, target market, capital need, commitment, revenue and affiliation to the ECOSTAR sectors and focus.
Once the final 8 startups are selected, they enter our intensive programme where their mission-driven business direction is given a rigorous and technical sector-specific boost. The incorporation and importance given to the "mission" or positive impact and sustainable management of the resources utilized for the development of the products and services offered by the applicant ECOSTAR startups, has set this programme apart. Indeed, it is closing the "impact loop" and rising to revenues that makes ECOSTAR's ventures attractive to our ever-growing network. ECOSTAR's startups will be trained and prepared from start to stock and everything in between, gearing them towards a high-profile demo day.
The Nature-Accelerator Demo Day, which will be held on the 19th July will solve one of the biggest hurdles for the early-stage sustainable startups and is also one of the big pluses of acceleration programmes in general, over other or no alternatives, that is, demo days bring startups to the spotlight, where they can be noticed by who matters so that they can scale, quickly.
Stay tuned to see the final selection!