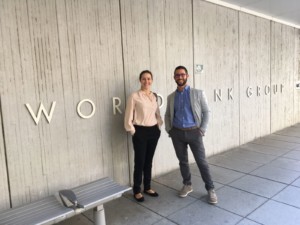 Last October, Etifor travelled to the US for the sixth, and last, mobility exchange for the ECOSTAR project. Alessandro Leonardi, CEO of Etifor and Project Coordinator of ECOSTAR explains: "the mobility to the United States was very successful as US is the perfect environment for touch base with a fertile entrepreneurial environment. Both Seattle, the center of technological development, and Washington DC, the center of US and global political decision making, are both the perfect place to leverage, find connections and learn best practices to promote entrepreneurship and innovation".
During the mobility, Etifor and Ecosystem Marketplace | Forest Trends Initiative (our ECOSTAR US-based partner) were able to work directly with Fledge (our Investor Partner), hosted by the Seattle Impact Hub. During these meetings, with Luni Libes, CEO of Fledge, there was a detailed and intense knowledge exchange on how to better organize the Nature-Accelerator in 2018. One of the main explored issues were related to how to measure the impact of the startups that will be accelerated by ECOSTAR. In parallel, Seattle's very popular "Startup Week" took place, with the whole city full of training, workshops and events dedicated to startups. This gave Etifor the perfect opportunity to know the Seattle innovation and startup community, Impact Hub Seattle and to attend startup pitches, Demo Days, and all events that were useful to the future activities that ECOSTAR will have to organize.
"Thanks to this time in Seattle, which included meetings with the Watershed Director of Forest Trends, and during the time in Washington, I was finally able understand all the areas of work of Forest Trends and really plan a future strategy for collaboration".
This opportunity led to the introduction of ECOSTAR to USAID, the WorldBank, the United States Department of Agriculture (Ecosystem Service Markets Office), the United Nation Conservation International (IUCN) and Yale School of Forestry; "it was a great opportunity to pitch ECOSTAR to very important global stakeholders and receive their feedback and lay the foundation for the replication of ECOSTAR in the US, Latin America and Africa".