From the 20th to the 28th of April, and from the 11th to the 17th June 2017, the second ECOSTAR mobility exchange took place between Ecosystem Marketplace and the University of Padova.
Genevieve Bennet reports on her exchange: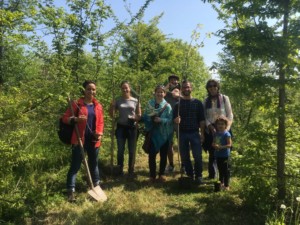 My mobility exchange was divided into two parts, the reason for this was to work on the Market Outlooks for the Biodiversity, Carbon and Water markets and attend the project partner meeting in Manchester in April, and secondly to attend the official launch of ECOSTAR in June. When I arrived in Padova, I was warmly greeted by the UNIPD team; Alessandro and Lucio. The first part of my mobility was mainly defined by day one, which was a "meet and greet" with one main event: a presentation on zero deforestation; tracing the supply chain of the leather industry from Brazil to Italy, which I found to be very useful. The second day consisted of an informative field trip to an excellent example of social innovation in the forestry sector; Bosco Limite Park, led by Lucio Brotto. The tour consisted of viewing innovative methodologies of putting local community interests together to develop an open forest that helps purify and recharge the local groundwater source.
The highlights of the second part of the mobility were the launch of ECOSTAR in Rome.
Overall, I had a great experience and was quite happy with the knowledge exchange at UNIPD, and indeed during the Manchester meeting and ECOSTAR launch in Rome. The Face-to-face interaction resulted in better work – especially considering the project partners are based in so many different countries – and sparks ideas for continued collaboration even after the ECOSTAR project is completed.
In terms of outcomes, as noted, exposure to new research and projects being carried out in Europe in the water, biodiversity, carbon, and forestry spaces is invaluable to Forest Trends. Our work requires that we stay apprised of new developments and projects. Visiting project sites and talking to researchers, decision-makers, and project developers allows us to better understand the dynamics of project design and demand, and build relationships that vastly improve the quality of our own work. I came away with new contacts, data, and knowledge regarding market mechanisms conservation which will be utilized in our ongoing market tracking work and form the basis of future joint projects with our partners in Italy.